Beach wrack refers to the piles of seagrass, reeds, and marine algae that are found alongside beaches worldwide and are most commonly associated with sandy beaches. As a natural phenomenon, in 2017 Macredie et al., defined the beach wrack as accumulated detritus of organic material that is washed up and laying on tidally, windy, and wavy influenced beaches. Apart from the beneficial effort that beach wrack provides to the natural environment, beach wrack is directly associated with a nuisance for inhabitants and tourists visiting seaside resorts. Inhabitants, camping owners, and the local authorities are called to resolve the beach wrack problem, mainly in the summertime. Öland, the second biggest island of Sweden is among the islands worldwide where the tourist period plays a significant role in the viability of the island.
There is a need to achieve sustainable development when it comes to dealing with the beach wrack. One innovative idea is the transformation of beach wrack into a resource, which will contribute to the implementation of sustainable development. The pioneering idea is based on the usage of locally available natural organic matters (using beach wrack that is washed up in beaches and woodchip waste) for the production of natural compost via a composting method. In this composting method, any chemical addition or process will be present, which will lead to the production of 100% ecological product.
Beach wrack along the coast of Öland: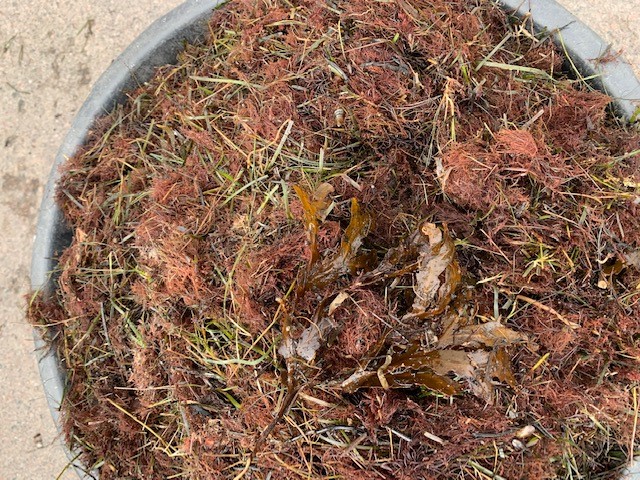 Fucus vesiculosus
Fucus serratus
Furcellaria lumbricalis
Polysiphonia fucoides
Ceramium tenuicorne
Rhodomela confervoides
The composting method is an optimal method for minimizing the impact of managing tourist beaches in the region of Kalmar and more specifically on the island of Öland. It results in the production and development of natural fertilizers at reasonable prices by regaining and utilizing only organic materials. The final compost product of fertilizer will offer a quality improvement of an agricultural landscape, 100% organic gardening products, protection of the environment, use of restorable sources of energy, zero waste management, and of course, will improve the circular economy. The technological innovation chain that will be followed is presented below: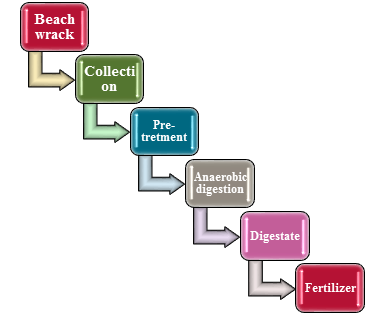 The sampling has been performed on the 1st of April from Wikegård, Öland:
After the sampling, the beach wrack transferred to the facilities of Linnaeus University where the compost machine is located and the process will take place.
Compost machine at the facilities of Linnaeus University and storage of the beach wrack for the purpose of the experiment: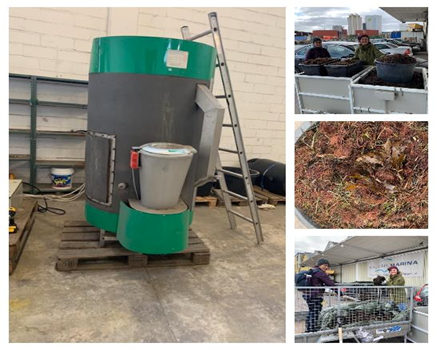 The final products will be beach wrack organic compost and beach wrack organic plant soil.
Graphical illustration of the compost experiment: