Fertilizers and soil improvement products
Location: Bad-Doberan/ Island of Poel, Germany
Lead: Hanseatische Umwelt GmbH
The case study aims to further develop and optimise the process chain of beach wrack for the production of compost and compost-based soil conditioner. Starting with the collection of raw material at the beach site, the process continues with the pre-treatment near to the beach and ends with producing the final beach wrack-based soil products in the compost plant.
The knowledge of co-composting of beach wrack as one of the most promising recycling solution for the treatment of large quantities of beach wrack shall be deepened through composting field trials. The manifold positive properties of algae and eelgrass on soil improvement and plant growth are to be investigated by experimental trials on different crops (e.g. grass, cereals, berries). In addition to the utilisation of beach wrack as co-composting material higher-value recycling pathways for the use of the individual raw materials of beach wrack, such as eelgrass or algae shall be further developed. For example, clean, pure eelgrass can be used as filling material for pillows and mattresses, or pure algae material can be used to obtain pharmaceutical substances.
In order to ensure a long-term and safe supply of the Hanseatic Environment with beach wrack material, the cooperation with local authorities is to be intensified. In addition to optimising the utilisation chain for beach wrack and networking more closely with regional players, product development is to be expanded. Customer-specific requirements for the beach wrack-based soil products of the Hanseatic Environment are to be determined with the help of a market analysis.
Updates
Feb 2020:
Do beach wrack-based soils effect the growth of strawberry plants?
Experimental pot trials with beach wrack-based soil-mixtures started at Hanseatische Umwelt

Aim of the pot trials with strawberry plants from a local strawberry farmer is to test the effect of beach wrack-based compost on plant growth and soil properties. For the trials soil mixtures with different amounts of beach wrack-based compost have been prepared. The plants are inspected weekly and their growth is documented. In about 3 month we hope to harvest the first delicious "beach wrack strawberries" in our growing lab.
Jan 2020:
Krinova Incubator & Science Park visited Hanseatische Umwelt GmbH in Sandhagen (DE). The partners met for two days with the main focus being to develop an even stronger business case for beach wrack based soil improvement products. The aim was to get new perspectives on viable business options, close consumer relations and on the company value proposition. A grand tour of the Sandhagen facilities was led by owner Mr. Staemmler and researcher Mr Aldag.
Oct/Nov 2019:
Composting trials of beach-wrack-based compost started at Hanseatische Umwelt
Hanseatische Umwelt, CONTRA's SME partner and leader of the case study "Wrack4Soil" started with experimental composting trials of marine biomass.
Two small compost piles with a mixture of green cut and beach wrack have been set up at our compost facility. A mixing ratio of 30/70 and 50/50 was used. To compare the quality of the mature compost a control pile with only green cut material was put in place. Jellyfish material was also used as a compost additive in another test compost pile.
Temperature and emission of CO2 and O2 are continuously monitored. In about 8-10 weeks, the compost will be available for further experiments and laboratory analyses.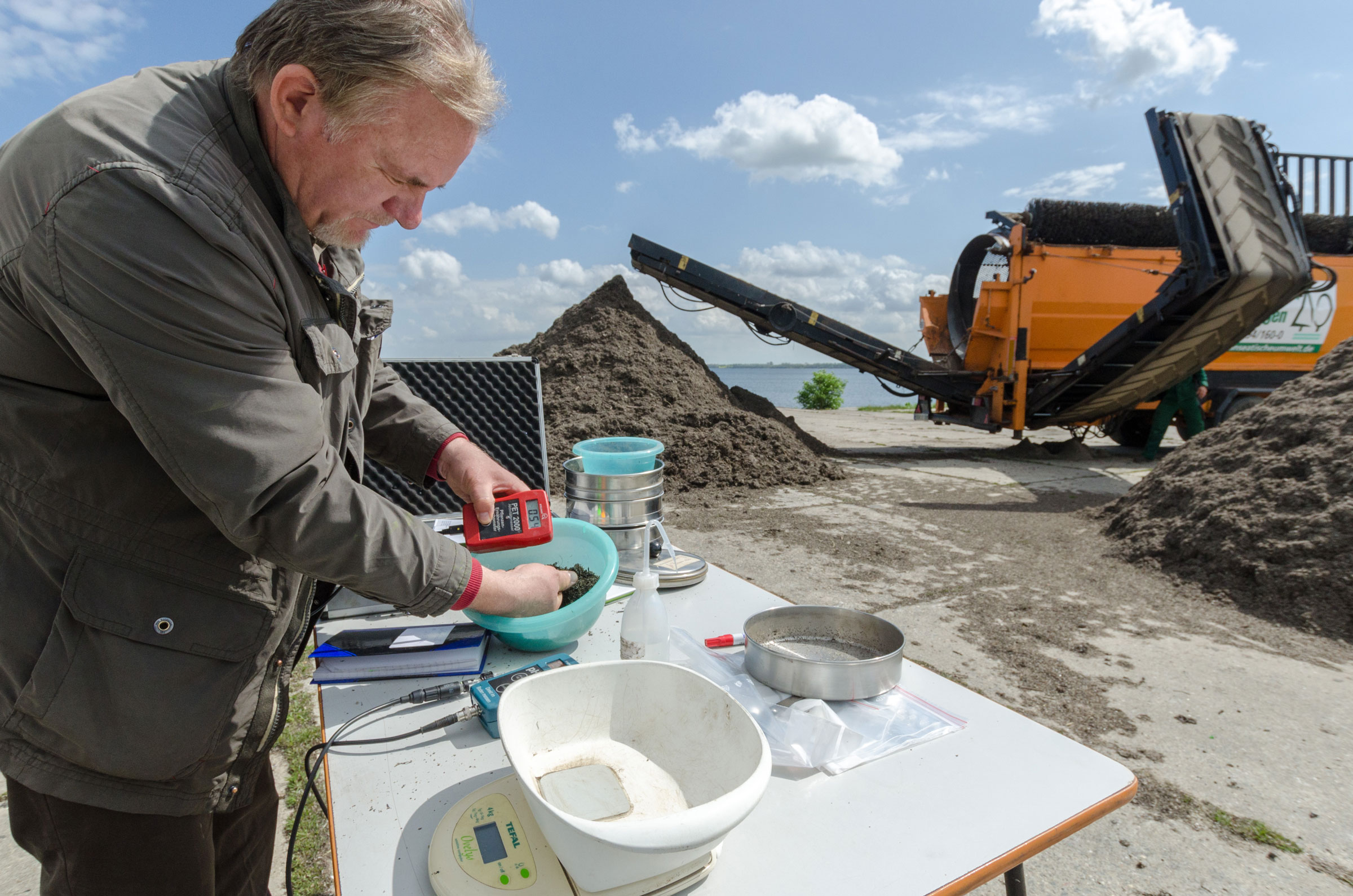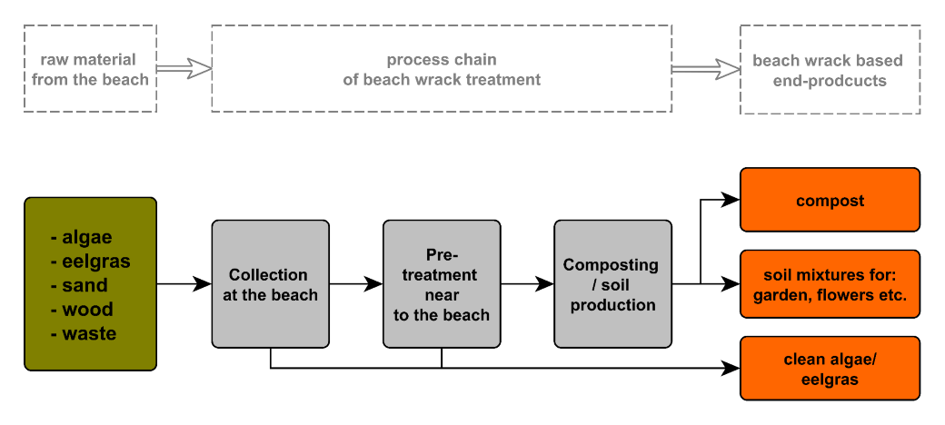 Exemplary recycling chain of beach wrack for the production of compost-based soil products
The CONTRA partners are from Germany, Poland, Denmark, Sweden, Russia and Estonia. The project runs from 2019 to 2021 and is supported financially by the European Regional Development Fund, ERDF.